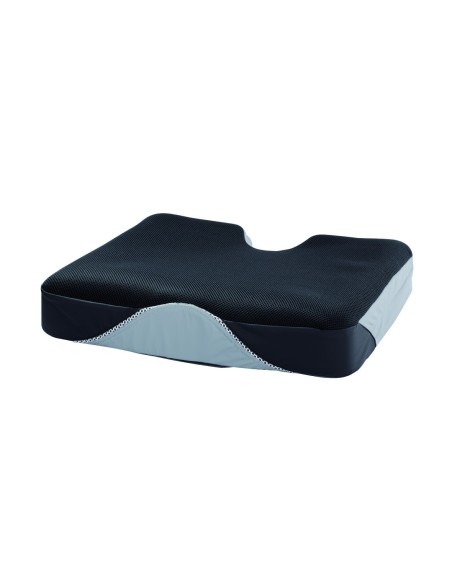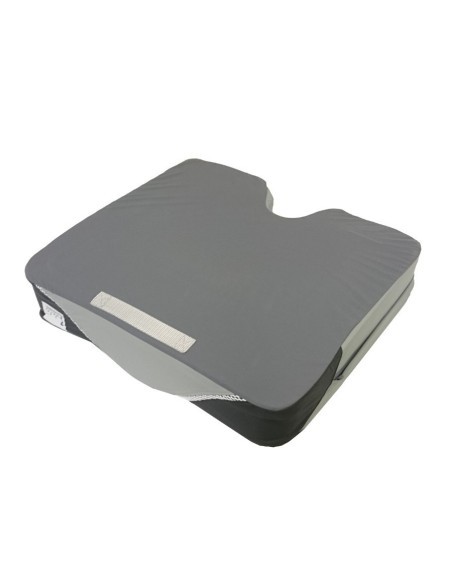 Pharmaouest Iskio B-M Wheelchair Cushion
The ISKIO b-m cushion is made of memory foam with a high resilience foam insert. Thanks to its numerous beneficial features, this technical cushion is able to provide a better distribution of pressure.
Please select at check-out if you qualify for VAT relief.
100% secure payments
The high resilience foam insert increases the weight-bearing capacity for certain areas in order to ensure that pressure is relieved from bony prominences in at-risk areas. This is done by distributing pressure to lower risk areas such as the thighs, and along the periphery of the buttocks. - The crural incline prevents retroversion of the pelvis (pelvis sliding forwards) - The rear cutout and seat shape are specifically designed to relieve pressure in the ischial and sacrococcygeal areas while preventing the cushion from "bottoming out", thus increasing the comfort of the seated person.
Recommendations for use
Use of the cushion is designed for people with a risk of pressure ulcers most often linked to static posture problems while sitting (sliding to the front of the seat, with too much support on the sacrococcygeal area), for use either at home or in care facilities for dependent elderly persons.
 Specification
Width: 40cm (16") - 50cm (19.5")
Depth: 40cm (16") - 45cm (17.5")
Height: 8cm (3")
Memory foam: 80 kg/m3 (5 lbs/ft3 )
Pharmatex cover: 65% polyurethane, 35% polyester
Anti-slip bottom: 57% polyurethane, 43% polyester
User weight between 40 - 150kg
Under HMRC Rules, those chronically sick or users with a disabling condition may qualify for 0% VAT Exemption.
To purchase at this price we will ask you to confirm the reason for VAT exemption at Checkout.

.
Free delivery

to mainland UK.
Pharmaouest have been manufacturing pressure care products such as air and static mattresses & cushions, technical aids and daily living aids for the home care and care home environments for over 20 years